Blossom Water Museum Hotel Hangzhou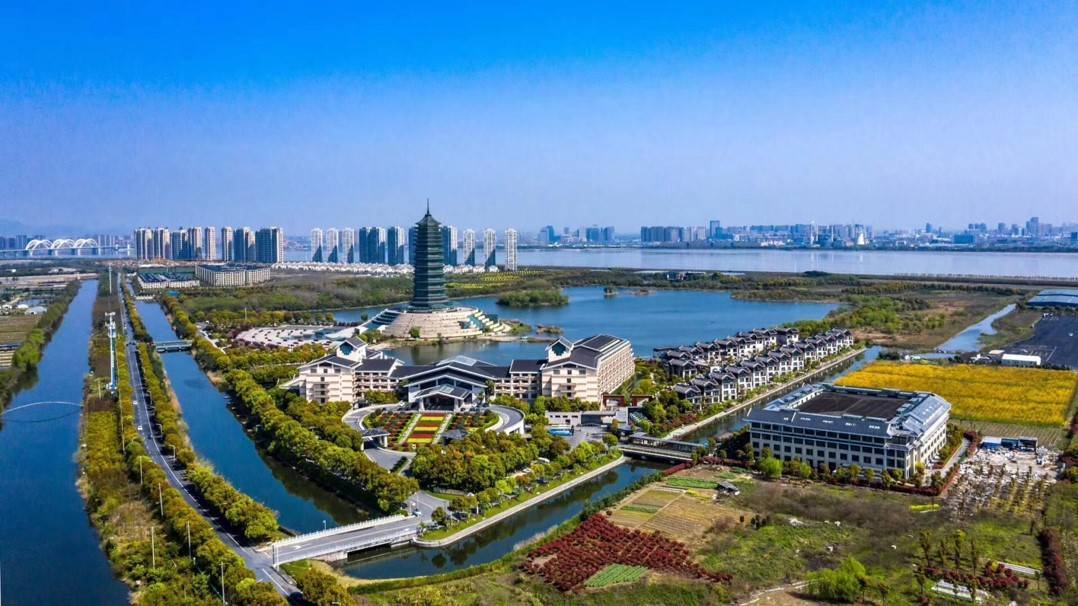 Hotel name card
Add:8, Shuibo Avenue, Xiaoshan District, Hangzhou City
Tel:0571-83500888
Fax:0571-83739666
Hotel Profile
Hangzhou Blossom Water Museum Hotel is located at the bank of Qiantang River, Xiaoshan District, Hangzhou City, inside China Water Expo Garden, and is adjacent to China Water Resources Museum; it takes about a half hour by car to Hangzhou City center, is 7km away from Qianjiang Bridge II (Pengbu Bridge) and Qianjiang Bridge VI (Xiasha Bridge) , 2km away from Qianjiang Bridge VIII (Jiubao Bridge), it covers a land area in over 3,000 mu and as a matching program for China International Water Town, it has been listed into Xiaoshan District Tourism 1010 Projects.
Around the hotel it enjoys particular natural landscape, it is a comprehensive culture and leisure resort hotel integrating rest, viewing sight, entertainment, ecology, popularization of science, fitness and art display, builds the subject of harmonious co-existence between man and nature, owns a natural wetland lake in an area of over 500mu and reappears the idyllic scenery of original ecology that "men walk on the road, fish swim in water, boats drift in river, geese sing in front of boats, grass grows in water, fruits emit nice smell in branches, frogs sing in fields and birds play up in the air".
Hangzhou Blossom Water Museum Hotel has created an ecological, landscaping and intelligent brand-new hotel garden by using new concept, new technology and the currently domestic and foreign successful experience and through intelligent management mode. By using details such as the foundation support, brackets and roof etc., and by using modern manners to create multiple architecture charm, the hotel has reappeared a flourishing era in Xiaoshan at the bank of Qiantang River!
Being one of the larger conference and resort hotel in eastern China, Hangzhou Blossom Water Museum Hotel has been selected as 2017 "China Excellent Conference Hotel", "Top 100 China Conference Hotels", "Zhejiang Cutting-edge Hotel China" and as the reception hotel for the G20 Hangzhou Summit, it has made a success to receive the military honor guard of People's Liberation Army.
Guestroom Profile
Composed of 6 floors, the hotel has 523 guestrooms/suites and 1,063 beds, including 92 deluxe standard rooms, 316 featured standard rooms, 73 deluxe single rooms, 41 deluxe suites and 1 presidential suite. The overall style of guestroom decoration is fresh and elegant, totally natural with perfect design combining the oriental and the west; with considerate full-time housekeeper and meticulous golden key service, the hotel will bring extraordinary enjoyment to guests.
Conference Facilities
The hotel has 14 banquet halls, conference halls and multi-purpose halls, 2 non-column large mufti-function halls that can accommodate 4,500 guests for meals concurrently, so it is an ideal place for receiving large conferences and wedding ceremonies; meanwhile, the hotel provides conference equipment renting and whole course conference agency service, providing convenient and fast service for conference organizers.
Catering Facilities
In terms of catering, the hotel has 18 deluxe boxes of totally different styles and 4 featured flavor dinning halls to meet all around catering demand for guests. By learning widely from others' strong points, the water museum catering mainly gathers Hangzhou style dishes, new party Guangdong style dishes, Sichuan style dishes, local dishes of Xiaoshan, the featured dishes of food from Qiantang River which form Blossom cate by supplementing with other dishes. Sitting in the north of the reception center, Haina Western Restaurant is adjacent to Water Museum Lake enjoying wonderful scenery, and provides international buffer breakfast, exquisite western style breakfast snacks, finely selected rich sea food, pure and native barbecue,cocktail and delicate French style chocolate cake, making you enjoy the particularly flavored buffet and exquisite western snacks. The Lobby Bar stands in the lobby center with graceful and comfortable environment, providing various famous tea, imported wine, beer, delicate tea snacks, cocktail and meal order service. You may taste various cocktails and easeful afternoon tea in the Lobby Bar, feeling the taste of jazz and experience the wonderful scenery of "seeing Nanshan Hill carefree and leisurely".